You have decided to create an email address and since then, you haven't stopped receiving spam emails?
Did you know that you can optimize the performance of your spam filter? Regain control of your mailbox?
Deleting spam and unsubscribing from newsletters is not so easy when you are not familiar with your email provider.
If you follow a few rules, you will see results very quickly.
And it will save you time daily and give you better visibility of your mailbox.
Read on for some alarming spam facts and how to prevent spam.
What is a spam?
Spam is an advertising email sent by a professional or an individual to people who have not given their prior consent.
Unlike newsletters, spams do not contain an unsubscription link and the sender's address is not valid.
We explain what differentiate a spam and a newsletter. (lien fin article)
Studies show that in 2018 this form of electronic communication represents 45% of today's email traffic. (nearly 14.5 billion messages globally per day!).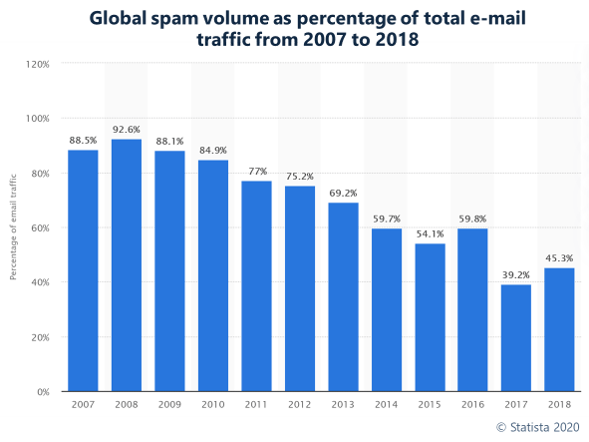 Despite the evolution of anti-spam software, such as spam filters and spam blockers, the negative effects of spam are still being felt by individuals and businesses alike.
Spams create an individual nuisance and consume computer resources but can create much worse problems.
How I can recognize a spam?
You can often recognize a spam by its exaggerated content in the email.
If you have any doubts, the following actions may also be considered as spam:
Ask a stranger to visit your website
Include someone in your sending list without his consent
Posting messages on a forum that have nothing to do with it
The most common spams can be recognized by their themes:
Adult category: spammers offer services aimed at adult individuals: pornography, matrimonial advice, love announcements…
Finances: This type of spam gives an incentive to borrow money, buy on credit or invest
Multimedia: Anti-virus software's, anti-spam, hosting services and website optimizations services are in this category
Spiritual: This category refers to all unrequested emails related to spiritual evangelization or spiritual matters (astrology, psychology, religion, theology…)
Health: Spammers often offer miracle medicines that can't be bought
Education/ training: They are classes, training or seminars accessible at a competitive price
Why do we need to protect ourselves from spams?
Financial Risks
Spams can infect your computer through a Virus or Spyware.
Here are some examples of dangerous types of spams:
If you're asked to recover millions of euros in exchange for a percentage (invest abroad, chain letters, Ponzi scheme…). It is probably a scam
If you receive emails from the servers indicating that you have not been able to send an email, this is called a bounce. In this case, the spammers have stolen your identity and are sending e-mails with your name on them.
The spammer can also use your personal data (login details, password credit card number, etc.) to unscrupulous ends by stealing your identity. This phenomenon is called phishing.
Decline in Productivity
Spam not only steals money from business owners, but it also wastes employees' time.
On average, a person loses 20 seconds evaluating and deleting spam messages one by one.
Even if the messages are deleted, the company still loses valuable time as employees try to determine the legitimacy of these emails.
Cleanfox is a free software specially built to streamline mailboxes in complete security.
This tool helps you gain productivity by efficiently cleaning your mailbox.
It is also a real-time gain because the emails can be easily handled in a single click.
The software sorts your messages based on the sender once you have linked Cleanfox to your mailbox.
Wasted Storage Space
Spam must be received by the mailbox and therefore often requires additional storage capacity.
The result: extra storage space purchased for an email to just sit until it is automatically deleted.
How can I control the emails I receive?
Filter your mails
You have too many spams in your inbox?
If you're using Outlook, the level of filter protection for undesirable emails is set on "No automatic filter" by default.
You should review your level of protection in order to receive less spams.
Click on Home > On the upper right corner of the page click Settings (Cog icon) > click View all Outlook settings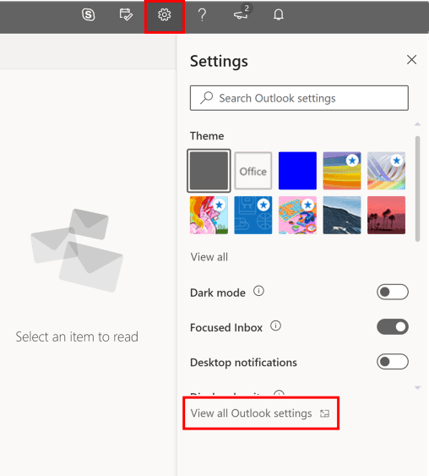 Select Email > Junk email > Filters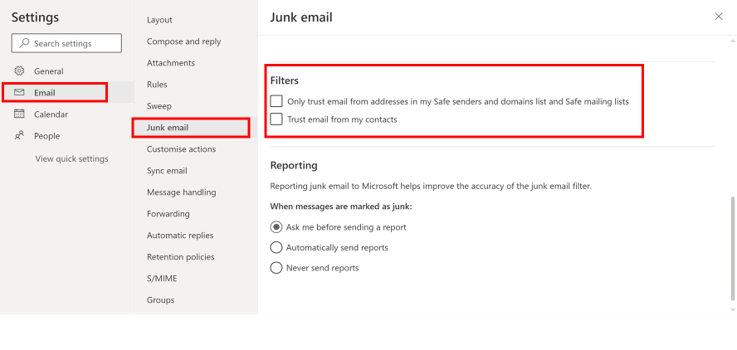 Choose the desired level of protection between the available options:
Only trust email addresses in my Safe senders and domains list and Safe mailing lists
Trust email from my contacts
To read: How to stop receiving spams in your Hotmail inbox ?
Block Specific mails
Whatever your provider, you can add Blocked senders and domains (mails to move the Junk Email folder)and Safe senders and domains (mails that don't move to the Junk Email folder).
If you're using Outlook.com, you can follow the steps below on how to add an email address to Blocked senders list:
Click on Home > On the upper right corner of the page click Settings (Cog icon) > click View all Outlook settings
Select Email > Junk email > Blocked Senders and domains
Click Add, type the email address of the sender you want to block in the text box and press Enter
Click the Save button.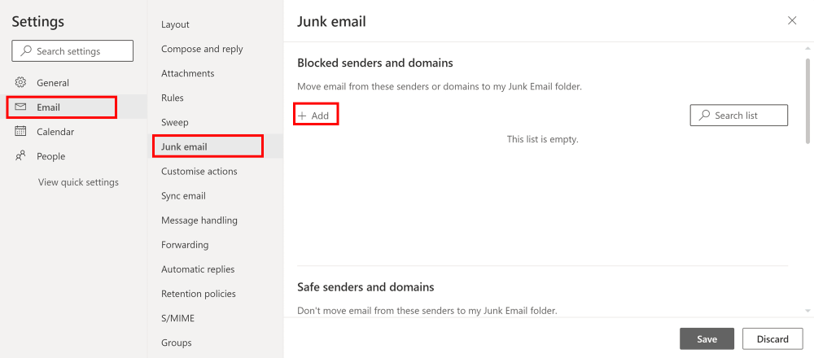 Messages that you do not wish to receive will automatically be redirected to the spam folder.
Tips: You can also sort your email upon arrival by category: presence or not of an attached file, recurring themes (free, millions of dollars, 0% credit), keywords (free sex or low rates for example).
Consult our Hotmail Beginner's guide to create rules that tell how to handle incoming email messages.
How to train your Anti-Spam filters?
Most mail providers contain anti-spam filters where undesirable messages are automatically redirected.
The emails are sorted out in order to directly transfer the spam to the spam folder or undesirable.
You can then consult it in order to make sure that it is spam and block all the emails coming from this sender.
If that is not the case, when you find spam in your inbox, don't just delete it.
Select it, and tell your mail provider (Yahoo, Outlook, Gmail…) that this message is spam (the procedure depends on your provider).
If you're using Gmail', click the Report spam button in the toolbar (the icon looks like an exclamation point inside a stop sign).

You also need to train your mail provider about your false positives. False positives are legitimate emails interpreted as spam.
You can go through your spam folder looking for messages that don't belong there.
When you find one, select it and tell your mail provider that it made a mistake.
In Gmail, you click the Not spam button.

If your mail provider is halfway decent, it will learn from these mistakes…but only if you train it.
What are the best Anti-Spam measures?
Look what you're signing up for
Don't give your email address to companies if you have little information or if you don't trust them.
Check that the site is secure with a padlock in the URL.

For reputable companies, you will (normally) get an unsubscribe link at the bottom of their mail or next to their email address.

This also applies to people.
The more you share your email address, the more spam you will receive.
Avoid sharing your email address too much.
Provide the least amount of information
When filling up a form, only give the minimum of information. You could even give fake information.
Try to give out your name as less as possible.
You should avoid common emails such as middlename.lastname@mail.com when creating your address, these are the favorite targets of spams
Be careful with spam
To prevent further spam messages from flooding your account, treat the messages you already receive with care.
Look at the subjects of the emails and the recipients. If they look suspicious, it's best not to open them.
If you open them, close them and do not reply to the messages.
This could then validate your email address as active, which could lead to an increase in spam.
Never click on links in spam messages and do not download attachments. Spammers may then have access to your computer.
Consider a new e-mail address
The best way to get less spam is to create a new email address.
Your new address will not appear on any of the mailing lists used by spammers – at least for a while.
You can use a service that blocks more spam, such as Google's Gmail or Microsoft's Outlook.com.
Use many email addresses
You can also use multiple email addresses (for example, family, friends, and websites you want to follow the news from).
You will then be more likely to receive the bulk of spam messages at your last email address.
What is the best anti-spam solution?
Instead of manually deleting your spam, you can opt for software designed to automatically block them.
Whether you are looking for your business or personal use you can choose one of these anti-spam solutions.
Bonus : If you have an iPhone you can try iMyFone Umate Pro which allows you to freely delete the useless files, corrupted, cookies, etc.
How to delete your spams?
Delete directly from your inbox
If you want to permanently delete a spam in your inbox, without having to consult it first:
1. Check the box of the mail you want to delete
2. Then, select "Delete"
Find your spam folder and delete
If you want to delete all the emails in your Gmail folder, follow the instructions:

1. Go to the folder with an exclamation button.
2. Check the box at the top or the mail you want to delete
3. Then, select "Delete forever"
Why are my emails going to spam?
Did you send a message that appears directly in spam?
It's quite possible, spam filtering has become more rigorous.
Mail providers are just getting tough on spam (and are not 100% accurate).
A few reasons why your mails end up as spam:
Your IP address is considered spam.
Remember to keep an eye on your domain reputation.
If you send your campaigns through an email marketing service, your email is sent through their servers.
You will therefore be affected if one of your colleagues is considered spam.
These email services want to preserve their sending reputation and have very strict procedures and regulations in place to prevent this from happening.
If you want to check your email address you can go to Mail-Tester which is a free spam-checking tool.
Just send an email to the email address displayed on their website and click on the "Then check your score" button.
You will then be able to check if you are blacklisted, DKIM and the quality of your message, and perform SpamAssassassin check.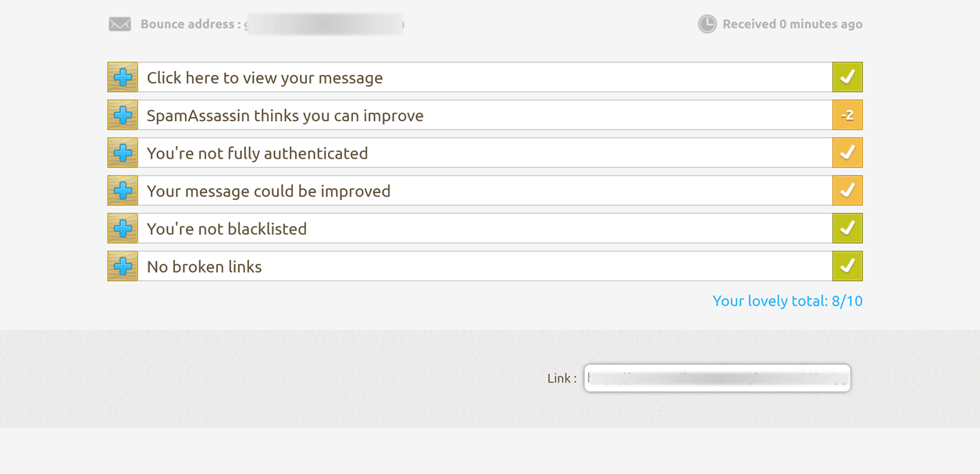 You have used spam trigger words
Some spam filters are triggered by certain words in your subject line or email.
Whether you are in the field of finance, health or marketing you will need to think about your keywords.
You can find the whole list of words to avoid in the article 924 Spam Trigger Words to Avoid in 2020
Frequently asked questions:
What's the difference between a spam and a newsletter?
Multiple criteria distinguish spam from a newsletter. These allow your mailbox to characterize and sort the emails.
The differences are:
Number of receivers. The spam emails make their way to hundreds of mailboxes at the same time, solicited or unsolicited. Newsletters, on the other hand, are set up based on the receiver's needs. Indeed, the senders use lists of actual or future consumers.
Frequency and the sending moment. While hundreds of individuals can receive spams at any given time every week, newsletters are only sent a few times per week on specific days and time.
Email's average weight. Most of the time, spams sent via automated lists from the same sender usually have the same weight and content. On the other hand, newsletters are always different because they are created depending on the commercial objective and the receiver
If consumers also consider newsletters as unsolicited messages, the main difference still lies in the fact that it is possible to unsubscribe from this type of email.
Which applications to make your mailbox smarter?
Gmail is already using Smart Reply with Gmail and offers intelligent answers to your messages, in turn creating a massive time-gain.
But that's not the only way to make your mailbox smarter. Here are 3 applications:
Spark only sends notifications when the email received comes from a known contact.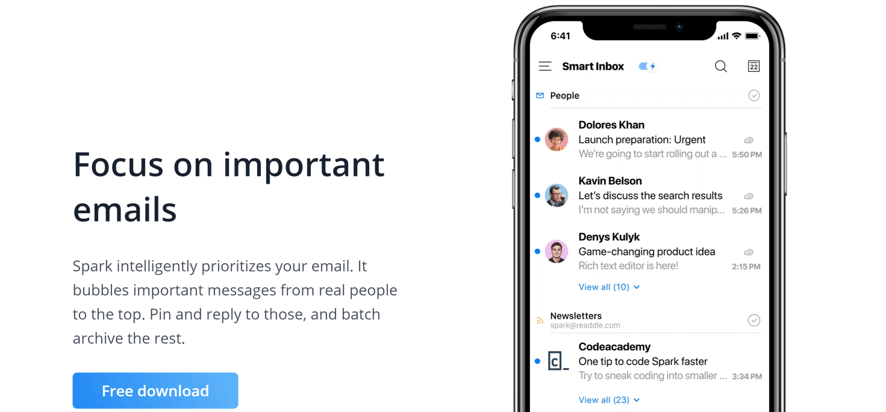 Spike is an app designed to make sending and sorting emails easier. This app contains other functionalities like traducing emails and video calls.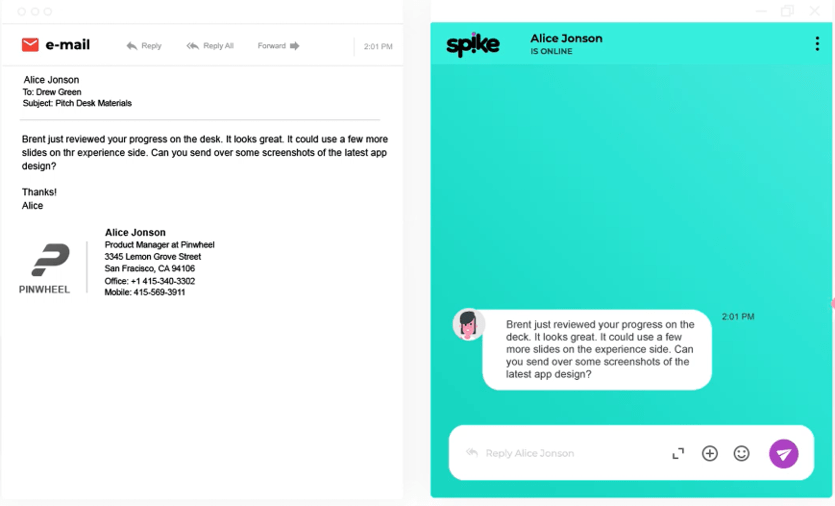 Mailbird lets you bring all your accounts onto one platform where you can do everything in one place.

Conclusion
Many consider newsletters to be undesirable emails, especially when they do not remember subscribing or unsubscribing.
To receive as few newsletters as possible, it is advisable not to follow up on the forms that appear on the screen when you visit websites.
If you have subscribed to irrelevant newsletters, unsubscribe using Cleanfox.
This free software allows you to delete spam and unsubscribe from newsletters in record time.